Home
> Buy Chair Feet
Buy Replacement Chair Feet:
<!––
--> <!––

-->
Click Below to buy 3/4 inch GREY chair caps for Samsonite style Chairs


Replacement Chair Feet (100 count)

$56.95

Buy now


Click Below to buy 3/4 inch TAN chair caps for Samsonite style Chairs


Click Below to buy 7/8 inch GREY chair caps for Church Hall style Chairs


Why Replace your folding chair's feet?
Plastic chair feet should be replaced when worn out or missing on rental style folding chairs.
The legs of metal frame chairs are tubes that can mar floors. They can also pick up dirt when used outside...the dirt may then fall out on the floor or carpet in your home or venue, creating a mess. These plastic chair glides allow a chair to be slid across a floor without marking it up.
How to Measure for correct chair foot (cap) size
Use your favorite ruler with markings that read down to the 1/8" size. Measure across the middle of the chair leg (pipe) from the end. See Photo:
The photo below shows how to measure for a standard rental (plastic seat with metal frame) type folding chair. The chair foot replacement size is 3/4 inch.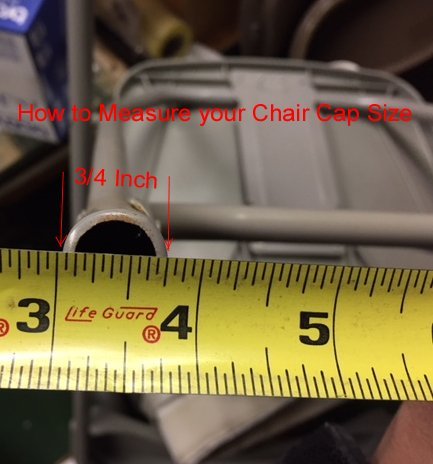 The photo below shows how to measure for a standard (church hall/bingo hall) type metal folding chair. The chair foot replacement size is 7/8 inch.
How to replace chair feet
It's easy to replace missing, damaged, or worn chair feet.
Just push the chair foot on by hand to start it, then tap it the rest of the way with a hammer.
The foot may also be pushed on by banging the chair leg on the floor. Keep the chair leg vertical when using this method so the foot goes on straight.
Plastic chair feet fit over standard rental style folding chair frames (round tube) with 3/4" outside diameter.
Click Here to see chair rental prices


CALL CAMELOT NOW at
781-246-0101 or Email us

We are experts at installing and removing chairs. We can free up your time and labor force by taking that task off your hands. Call now to get more information 781-246-0101.
23 North Avenue - Wakefield, MA 01880

Phone : 781-246-0101

Fax : 781-246-0009

Just some of the products we offer: Chair Risers, Head Table Risers, Multi-level Head Table Risers, Audience multi-level seating risers, Removable Chair lables, Removable seating numbers for assigned seating, and a Chair tying system.

Home

|

Price List

|

References

|

Tents

|

Chiavari Chairs

|

Pipe & Drape

|

Contact

|

Blog

Copyright © Camelot Special Events & Tents , Inc


AREAS SERVED: Boston, Charlestown, Newton, Chestnut Hill, Brockton, Brighton, Allston, Cambridge, Waltham, Framingham, Concord, Marblehead, Gloucester, Swampscott, Lynnfield, Wakefield, Stoneham, Reading, North Reading, Lowell, Wilmington, Melrose, Medford, Woburn, Winchester, Saugus, Lynn, Danvers, Peabody, Essex, Beverly, Hamilton, Wenham, Malden, Everett, Revere, Chelsea, Lexington, Arlington, Belmont, Watertown, Somerville, Brookline, Dedham, Milton, Quincy, Milton, Braintree, Weymouth, Plymouth, Randolph, Needham, Wellesley, Weston, Wayland, Lincoln, Bedford, Burlington, Natick, Sudbury, Cochituate, Westwood, Marlboro, Chelmsford, Tewksbury, Lawrence, Methuen, Haverhill, Middleton, Manchester, Ipswich, Topsfield, Stoughton, Sharon, Canton, Hingham,& beyond...Call for more info.