Home
>
Carpet Rental
Carpet Rental:
Protect your Athletic Courts with Carpets.
Please call for Carpet rental prices 781-246-0101
Carpets protect your indoor athletic courts from street shoes. Cover your court to prevent marks from non-athletic footwear. Abrasive street grit will be kept off the court surface and keep the finish looking like new.
Use your Gym for Events:
Gyms are the largest rooms in the facility. Using them for special events makes a lot of sense. Gym floor protection must be used to ensure the floor finish will last. Renting Carpets will allow you to use the space without having an expensive purchase. If you only use the gym once or twice a year, renting Carpets makes even more sense.
Dance Floors, stages, chairs, and tables can be installed over Carpets for an annual event such as Prom or Graduation.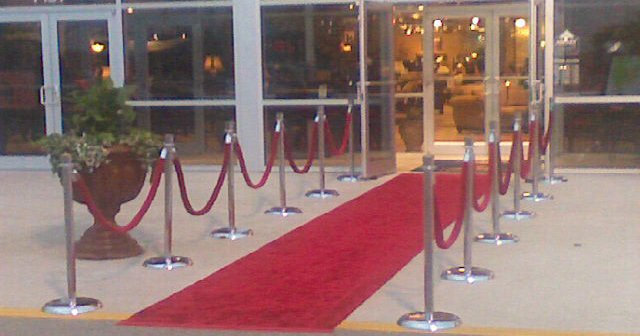 Roll Out The Red Carpet:
Use a Red Carpet Runner to make your event stand out: Store grand openings, special sales, movie premiers, VIP entrances, "Oscar" themed events, and sweet sixteen birthdays... every important event.
Having a Black Tie Event or New Year's Party? Use a black carpet runner at the main entrance to lead all your guests in.
Cover a cement floor to soften your event area:
Cover a hard floor with carpet, and change the look of the space. A carpet will change the color of the room.
Improve the feel of your event, literally: Your guests will notice the difference as soon as they enter.
Make your space acoustically better: Carpet will improve the sound quality of the room....your audio vendor will thank you.


CALL CAMELOT NOW at
781-246-0101 or Email us

We can carpet any size floor. Call the number above and give us the measurement of your room. We will put together a quote and email it to you. Our event rental service will: - fit your budget - make you look good - and make your job easier.
23 North Avenue - Wakefield, MA 01880

Phone : 781-246-0101

Fax : 781-246-0009

Just some of the products we offer: Pole Tents, Frame Tents, Canopies (self-install tents), Marquees (entry-way tents), Tent Structures, Wedding Tents, chair rental, china rental, linen rental, hotdog steamer, hot dog steamer, ficus tree rental, garden chair rental, chivari chair rental, ballroom chair rental, seminar chair rental, conference chair rental, tablet arm chair rental, booster chair rental, high chair rental, barstool chair rental, wedding chair rental, event chair rental, folding chair rental, stacking chair rental, padded chair rental, meeting chair rental, graduation chair rental, test chair rental, exposition chair rental, test table rental, seminar table rental, conference table rental, banquet table rental, 6' table rental, 8' table rental, 4' table rental, 30" round table rental, 36" round table rental, 60" round table rental, 72" round table rental, serpentine table rental, 1/4 round table rental, high top table rental, cafe table rental, cabaret table rental.

Home

|

Price List

|

References

|

Tables

|

Tents

|

Pipe & Drape

|

Contact

|

Blog

Copyright © Camelot Special Events & Tents , Inc


AREAS SERVED: Boston, Charlestown, Newton, Chestnut Hill, Brockton, Brighton, Allston, Cambridge, Waltham, Framingham, Concord, Marblehead, Gloucester, Swampscott, Lynnfield, Wakefield, Stoneham, Reading, North Reading, Lowell, Wilmington, Melrose, Medford, Woburn, Winchester, Saugus, Lynn, Danvers, Peabody, Essex, Beverly, Hamilton, Wenham, Malden, Everett, Revere, Chelsea, Lexington, Arlington, Belmont, Watertown, Somerville, Brookline, Dedham, Milton, Quincy, Milton, Braintree, Weymouth, Randolph, Needham, Wellesley, Weston, Wayland, Lincoln, Bedford, Burlington, Natick, Sudbury, Cochituate, Westwood, Marlboro, Chelmsford, Tewksbury, Lawrence, Methuen, Haverhill, Middleton, Manchester, Ipswich, Topsfield, Stoughton, Sharon, Canton, Hingham,& beyond...Call for more info.