China Plate Rental: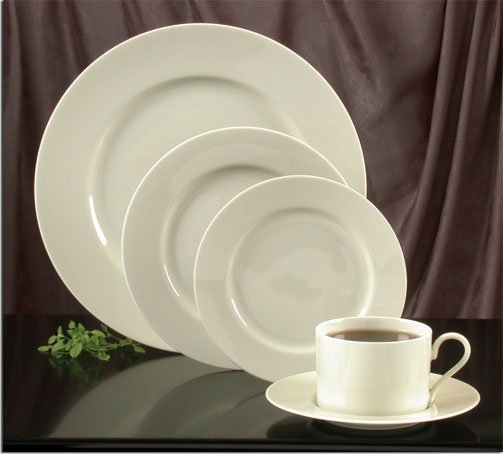 Beautiful White China Plates and Tableware For Your Event:
Many sizes of White China Plates to showcase your Holiday Dinner. Each dinner course displayed on pristine fine chinaware will keep flavors from different dinner courses from mingling with other each other.
Click Here to see china plate rental prices
A 6 1/2 inch plate can be used for bread and butter to keep the bread seperate from the dinner plate. It is also used for New Years hors d'ouerves and other finger food at cocktail reception areas. At the dessert table, a stack of this size plate helps minimize the labor of setting individual dinner tables with an extra desssert dish. A smaller dish can also minimize wasted food and stretch favorite foods so all guests have a chance to sample them.
Salad can be served on a 7 1/2 inch plate. This size plate also works well for pasta and heavy hors d'ouerves. Lighter meals could utilize this plate as well.
A Soup Bowl, used for soup, bisque, or chowder is a great addition to the table setting especially during the colder seasons. This bowl can also be used for salad or a larger dessert such as hot apple or cherry pie with vanilla ice cream.
The 10 1/2 inch dinner plate is most used for the entree. If the event style and budget dictate minimizing the amount of china, this plate can be used with family style dinners, barbeques or buffets to hold ample food. This is a great all-purpose Saint Patty's Day Boiled Dinner Plate.
The cup and saucer can be set with the full table setting. It can also be placed on or near the dessert table - another way to reduce table setting labor as well as beverage serving labor since many coffee/tea tables are self serve.
Full table settings are placed on the table in order of how the menu is served. Plates are stacked with the first course on top and the largest plate (the entree) on the bottom.
Plated dinners are served a course at a time to the guests at the table and do not require setting each place - this requires more labor to prepare individual plates and bring them to the table.
The buffet style dinner saves a lot of labor in table setting and serving. The food is centrally served from the buffet table (and replenished) and the guests can serve themselves (requiring fewer dinner table servers - another labor savings). The plates and bowls as well as flatware are placed next to the food station they are needed for. All the china does not have to be put out as it can be replenished by the buffet table servers when needed.
Are you hosting a
Graduation Party
or
Holiday Dinner, this year? For small Holiday Dinners of ten to feasts for hundreds - we have the fine china plates, glassware, flatware, linen and serving ware you need for a successful dinner. Plates of all sizes are available to fit your menu. We will deliver everything to your home or dinner venue giving you more time to cook and decorate. After the party, we will pick up everything and take it away. Call 781-246-0101
now and place your tableware rental order to avoid the rush and ensure availability.
Ten china plates cost less than $5.00 (/strong> - an inexpensive price to set a great table. Small orders can be picked up and returned to our warehouse to save the delivery fee.


CALL CAMELOT NOW at
781-246-0101 or Email us

We can help design your table-top with a table setting that complements your special event. Glassware & stemware as well as china, linen, skirting, flatware, serviceware and candelabra are also available.
23 North Avenue - Wakefield, MA 01880

Phone : 781-246-0101

Fax : 781-246-0009

Other products we offer: Tents, popcorn machine rental, hotdog steamer, chafing dishes (chafers), ficus tree rental.

Home

|

Price List

|

References

|

Tents

|

Pipe & Drape

|

Contact

|

Blog

Copyright © Camelot Special Events & Tents , Inc


AREAS SERVED: Boston, Charlestown, Newton, Chestnut Hill, Brockton, Brighton, Allston, Cambridge, Waltham, Framingham, Concord, Marblehead, Gloucester, Swampscott, Lynnfield, Wakefield, Stoneham, Reading, North Reading, Lowell, Wilmington, Melrose, Medford, Woburn, Winchester, Saugus, Lynn, Danvers, Peabody, Essex, Beverly, Hamilton, Wenham, Malden, Everett, Revere, Chelsea, Lexington, Arlington, Belmont, Watertown, Somerville, Brookline, Dedham, Milton, Quincy, Milton, Braintree, Weymouth, Randolph, Needham, Wellesley, Weston, Wayland, Lincoln, Bedford, Burlington, Natick, Sudbury, Cochituate, Westwood, Marlboro, Chelmsford, Tewksbury, Lawrence, Methuen, Haverhill, Middleton, Manchester, Ipswich, Topsfield, Stoughton, Sharon, Canton, Hingham,& beyond...Call for more info.