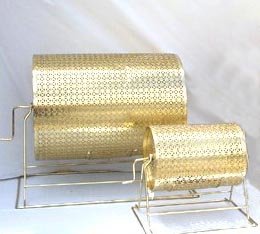 Raffle Drum Rental:
Use Raffle Drums for Fundraising:
A raffle is a great way to raise money without a lot of hassle. Raffles can be run alone or as part of a larger fund raising event such as an auction.
Click Here to see raffle drum rental prices
Raffle Drums are the best way to collect tickets. Raffle tickets are dropped through the ticket door in the raffle drum. The ticket door securely fastens allowing raffle tickets to mix thoroughly when the drum is turned.
When it is time to draw the winning raffle ticket, just reach through the ticket door and pull the lucky winner. Should there be multiple drawings, just re-latch the raffle ticket door, spin the raffle drum, and select again.
Made of perforated bright brass plated metal, the raffle drums allow tickets to be seen by everyone.
The small size raffle drum stands 12 inches high and has an 8 inch x 12 inch drum. Rated to hold 2500 standard size tickets when full, it is best to fill the drum no more than half way to allow raffle tickets to mix completely. It is best suited for smaller events.
The large size raffle drum is the most common size. It stands 20 inches high and has a 15 inch x 21 inch drum allowing a maximum capacity of 10,000 raffle tickets (standard size). This raffle drum size is more visible when there is a large crowd. Its size also makes this the raffle drum of choice for non-standard (or self made) raffle tickets, which tend to be larger.
Have a holiday Raffle to raise money at your Holiday Party for a good cause.
Save money with self-pick-up. Raffle drums fit into just about any vehicle. If you are local to our warehouse and offices, you may consider picking up and returning a raffle drum yourself to save the delivery fee.
CALL NOW (781-246-0101) to reserve your raffle drum for your next fund raiser.


CALL CAMELOT NOW at
781-246-0101 or Email us

We can help make your fundraising event more profitable by providing Casino Equipment, Bingo Cages and supplies, Popcorn Machines, Sound Equipment, and other supporting equipment for your fundraising event. Our event rental service will: - fit your budget - make you look good - and make your job easier.

AREAS SERVED: Boston, Charlestown, Newton, Chestnut Hill, Brockton, Brighton, Allston, Cambridge, Waltham, Framingham, Concord, Marblehead, Gloucester, Swampscott, Lynnfield, Wakefield, Stoneham, Reading, North Reading, Lowell, Wilmington, Melrose, Medford, Woburn, Winchester, Saugus, Lynn, Danvers, Peabody, Essex, Beverly, Hamilton, Wenham, Malden, Everett, Revere, Chelsea, Lexington, Arlington, Belmont, Watertown, Somerville, Brookline, Dedham, Milton, Quincy, Milton, Braintree, Weymouth, Randolph, Needham, Wellesley, Weston, Wayland, Lincoln, Bedford, Burlington, Natick, Sudbury, Cochituate, Westwood, Marlboro, Chelmsford, Tewksbury, Lawrence, Methuen, Haverhill, Middleton, Manchester, Ipswich, Topsfield, Stoughton, Sharon, Canton, Hingham,& beyond...Call for more info.